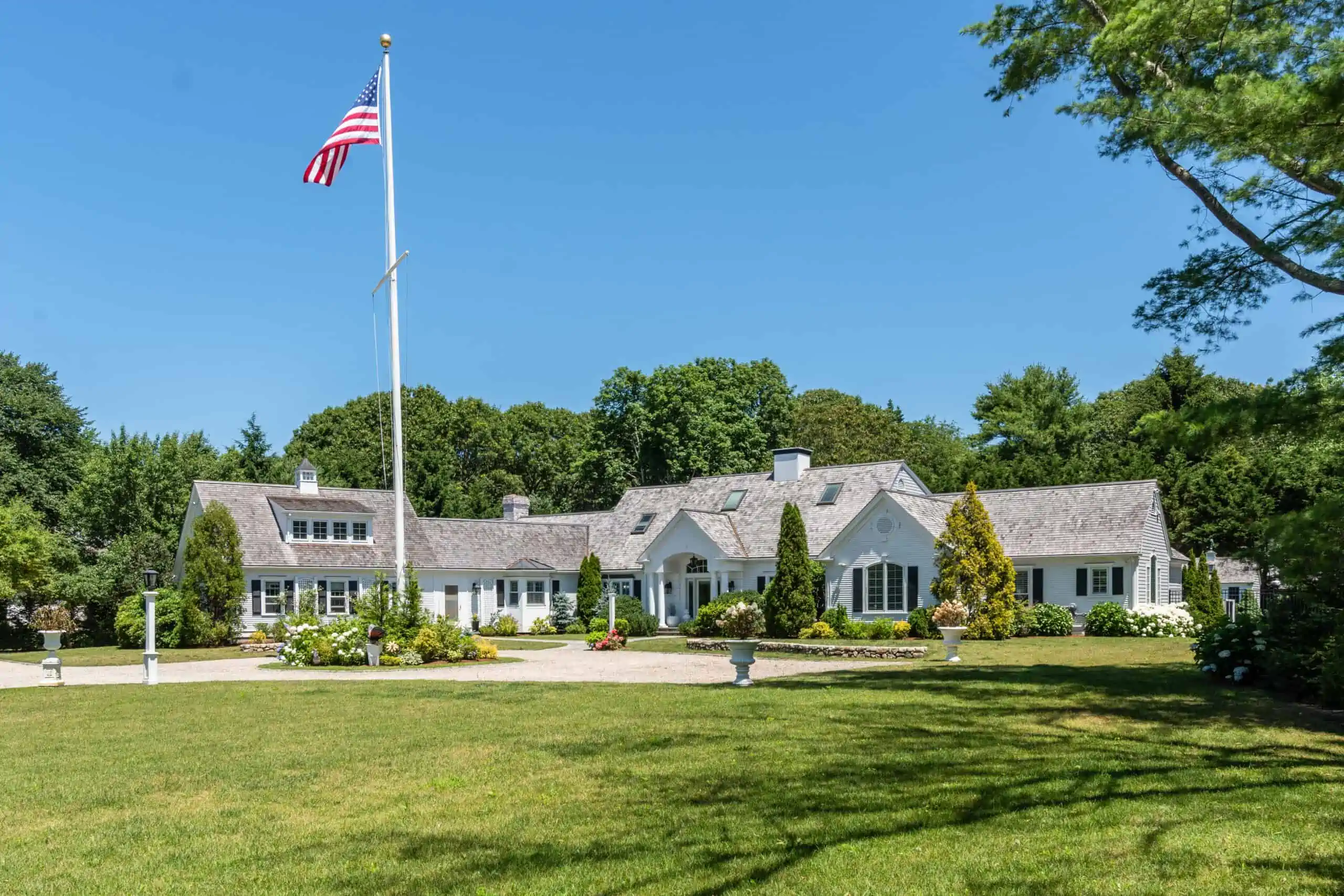 12 Jul

Magnificent Cape Cod Estate for Sale! 1460 South County Rd., Osterville, MA 02655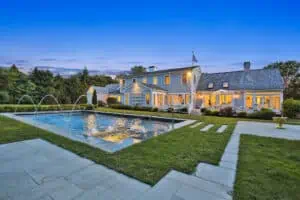 For Sale!!
1460 South County Rd., Osterville, MA 02655
Offered at $2,800,000
Listed by the Adams Home Team
Keller Williams/Luxury Homes Division
OPEN HOUSE Aug 26 11-3:00PM
About This Lovely Estate
This Beautifully Appointed, Expanded Cape is sited on a 1.3 acre private lot and located 1.5 & 2 miles from Osterville's Joshua Pond (Residents only), Dowses' Beach. Also, just a short distance to all the casual and fine dining, boutiques and shoppes offered in this Quintessential Cape Cod Village! Upon arriving, you'll immediately appreciate the estate setting with full fencing and gated entrance, the magnificent flag pole complete with yardarm, the circular driveway and professional landscaping.
This four-bedroom home, each with it's own full bath, offers ~4500 sq ft of open concept living and comfortable luxury.  The hardwoods throughout are in excellent condition and flow from the two- story foyer through the front-to-back living room, open concept dining room, spacious four-season sun room, then into the gracious eat-in kitchen and great room. The Gourmet Kitchen is fully equipped with Double dish washers, double-drawer Drink Fridge, Wolf Gas CookTop witth Hood, Double Wall Ovens, Warming Drawer and Sub Zero Refrigerator/Freezer. This kitchen has yards of granite and a huge center island with casual seating.
The great room includes a gas fireplace, two entrances into the three-season sunporch which overlooks a spectacular, lighted Koi pond with soothing water falls and gorgeous plantings. Additionally, the Great Room & Eat-In Kitchen areas boast a wall of sliders and patio doors leading out to the large, maintenance free deck and spacious, level back yard, just waiting for your garden parties and yard games. Topping it off is a Lighted, Olympic Size Gunite Heated Pool with built in Spa. All of this is surrounded by natural evergreen privacy as well as fencing.
Back inside, the first-floor Primary En-suite boasts it's own washer and drier inside the spacious Walk-in Closet/Dressing Room, marble and tile bath with soaking tub, shower and double vanities. Also, there's a lovely office/study next to it along with 1 of the guest 1/2 bathrooms. Upstairs you'll find two more spacious bedrooms, each with full baths and two walk in closets.  The fourth bedroom and full bath are located above the garage. It has a private entrance, patio and outdoor shower, so your guests can come and go, undisturbed!
Most of the windows and glass doors throughout this home are fitted with custom plantation shutters allowing for natural light as well as privacy without the need for heavy window treatments.  They suit Cape Cod living beautifully!
There is an additional 1/2 guest bathroom housed within the butler's pantry, including work station, second washer & drier,  floor to ceiling Wine Fridge, Ice Maker and Sink with separate entrances to facilitate convenience while entertaining your family and guests!
Come visit one of our open houses to tour this exceptional home or visit our website www.missyadams.com or call 603-320-6368.
For Complete MLS PIN Information Plese Click …

HERE
PHOTOS
Exterior, Deck, Pool and Pond. Entertainers Delight!!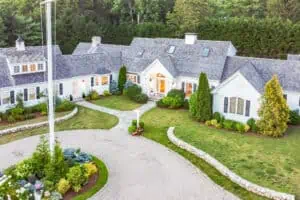 Kitchen, Family Room & Four Seasons Sun Room, Office & Wine Room
Entrance, Living Room, Dining Area
Bedrooms !!
Bonus Bedroom & Bath… Over Garage
Video Tour. Stunning Property, Fantastic Location…Missy Adams, Listing Agent
Take a 3D Tour of This Stunning Cape Cod Home – Stay as Long as you Like!
Check Out the Slide Show!
Google Maps
About Osterville, MA – Cape Cod
The attractive seaside village of Osterville, rich in history and cultural heritage, was founded in 1648 as "Cotacheset". It was primarily a seafaring village, the home of sea captains, shipbuilders, saltworkers, cranberry growers and oyster men. The name of Osterville did not come into use until 1815.
Osterville is one of seven villages within the town of Barnstable, Massachusetts, United States. The village of Osterville is located on the south side of Barnstable on Nantucket Sound. Osterville is a residential community that includes marshes, bays, ponds, a small lake, beaches, and a small business district. Notably, the village is home to the Crosby Yacht Yard. The Crosbys are America's oldest, currently active, wooden boat-building family. The Crosby Yacht Yard, which is known worldwide for building superior catboats, Wianno Juniors, and Wianno Seniors. Pres. John F. Kennedy's Wianno Senior, seen in photographs across the globe while he was in office, was crafted and stored here. It all began in 1850 when C. Worthington and Horace S. Crosby went into the boatbuilding business
Rich in History
Osterville was originally named Cotacheset, based on the Native American name for the area. Over time it became a center for "oystering" (harvesting wild oysters) and was renamed Oysterville. Later a map misspelled the name as Osterville and the village became so!
Around the mid 1800s, word got out to the rest of the world that Osterville was a cool and beautiful spot to spend the summer. Wealthy families, mostly from Boston, began to visit, and several Osterville families who had large homes created guesthouses. Before long the families began building their own summer cottages and invited their friends to do the same. Within just a few years, there arose three exclusive summer neighborhoods, Wianno, Seapuit, and Oyster Harbors.
Evolution of a Town
Osterville's popularity evolved from its location, the extensive coastline, charming convenient village center and attractive neighborhoods and resort areas. The village instilled both residents and visitors with a sense of peace and tranquility. As tourism expanded, picturesque streets and buildings were thoughtfully planned and developed. Noted architects and landscape architects plied their trade, first in the 1880's at Wianno followed in 1920's at Oyster Harbors.
Today Osterville's 5.8 square miles preserves its association with the sea and its traditional summer resort quality. Osterville's distinct areas include the more rural northern area along Bumps River Road, Tower Hill, East Bay, the village center, Seapuit, Osterville Harbor and the historic area of Wianno and the island communities of Little and Grand Island (Oyster Harbors). The village attributes include the 5 mile Nantucket Sound coastline and the 17 mile shoreline along the coastal bays and river estuaries. The shoreline encircles 1300 acres of protected waters and the coastline has 102 acres of protected barrier beaches. Thirteen inland ponds and lakes total 75 acres of surface water.
Historical Society
Osterville is now home to people of many histories and many lifestyles, and the village has been enriched by their collective heritages. Their stories are being preserved by the Osterville Historical Society, which was founded in 1931 by Dr. Fritz B. Talbot, a Boston pediatrician and a summer resident of the Wianno section. Since 1961, thanks to the generosity of Gladys Brooks Thayer of New York and Oyster Harbors, the society has been based in the stately Capt. Jonathan Parker House, which was built in 1824.
Welcome to Osterville!!
We have thirteen inland ponds and lakes totaling  over 75 acres of surface water. Open land totaling 305 acres is held in the public interest to protect the natural environments in and around Osterville. You can enjoy two private golf courses that retain an additional 228 acres of open space.
Osterville's year round population measured by Precinct 5, is 3,353. This includes children and unregistered voters. This number does not reflect the entire village of Osterville but does include some portion of the villages of Marstons Mills and Centerville. The Osterville Village Association has a 50 year history of active civic involvement. It represents the aspirations of its residents in that it strives to protect and preserve the village character, maintain a balance in growth and change, and hosts treasured community activities. Village Day and Christmas Open House are two of the most popular events.
More Info About 1460 South County Rd. Osterville, MA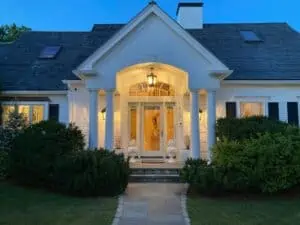 If you would like additional information or you are considering purchasing/selling a home in NH or MA, please contact the Top Producing and Award winning …. The Adams Home Team
Sign up for our Mobile App and search anywhere, any time…….Click Here
More Information about this listing or other properties.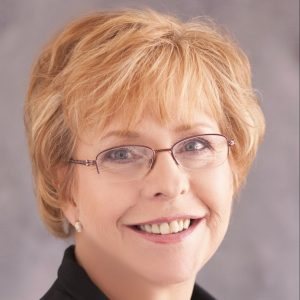 If you would like additional information or you are considering purchasing/selling a home in NH or MA, please contact
the Top Producing and Award winning …. The Adams Home Team
Missy Adams, Realtor
Keller Williams Realty
20 Trafalgar Square Suite 101
Nashua, NH 03063
Telephone: 603-320-6368 or 603-883-8400 x138
Visit Missy for more information on this or other properties.
Email: missyadamsrealestate@comcast.net
Twitter: @missyadamsnh   #AdamsHomeTeam