23 Jan

Domestic & Sexual Violence Support Organization Holds Major Fund Raiser in Nashua, NH

Please Be Part of The Solution !!!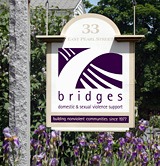 Bridges is a nonprofit organization that provides  a broad range of free and confidential services to victims and survivors of domestic violence, sexual assault, teen dating violence, child sexual abuse, elder abuse, stalking, and harassment. We provide crisis intervention, emergency shelter, court advocacy, support groups, and education and outreach to both women and men.
Bridges is supported by the United Way and is a member of the New Hampshire Coalition Against Domestic and Sexual Violence.
I have been privileged to be on the Board of Directors of Bridges since 2014. During that time I have seen a lot….and we have helped far more people than I ever would have imagined needed help… prior to my association with Bridges. Abuse can happen to anyone, at any time in all walks of life. Sais another way, Bridges provides mission critical services for people and families who have been tragically effected by circumstances totally out of their control. It is an honor for me to participate in such an organization.
Spanning Southern New Hampshire, we strive to make our communities a safe place to live and work. We create bridges to learning in local schools and workplaces, and bridges to healing with support groups and our confidential support line. We create bridges when we assist individuals in rebuilding their lives through our emergency shelter and community resources. You become a part of these bridges by supporting our agency and facilitating conversations with family, friends, colleagues, and peers about domestic and sexual violence.
Check out the Bridges To Hope…. VIDEO . This will tug at your heart strings.
LOVE IS IN THE AIR
This is our primary, annual fund raising event. I am happy to report last year we broke all records…but this is a new Year with new, even greater needs. We have outgrown our office and shelter space and are in the process of finding the necessary space to assist us in completing our important mission in the years to come. The save the date picture above is for those local viewers and bloggers who may share my commitment and support for this great organization and annual fundraising event. Please buy a ticket if you can…and if not we will gladly accept any contribution you are able to make.
We are certain that for 2018…."Love Is In The Air"
Join Us for an Incredible Evening
Treat your Valentine to an Evening of  Dinner and Dancing with Silent and Live Auctions Benefiting Bridges
at the
Sky Meadow Country Club, 6 Mountain Laurels Dr, Nashua, NH 03062
5:30 PM 
Cocktail Reception and Silent Auction
7:30 PM
Plated Dinner and Live Auction
9:00 PM
Dancing!!
Click…..Participate
The generous support we receive from our community allows Bridges to carry on in the mission to eliminate domestic and sexual violence in our community, and to provide a safe and empowering environment for the victims and survivors.
Visit Web Site to view all services. 
Click…BRIDGES
Thank you in advance for your generosity!
Missy Adams
Board Member, Bridges
Contact me at…missyadamsrealestate@comcast.net
Web:  Missy Adams